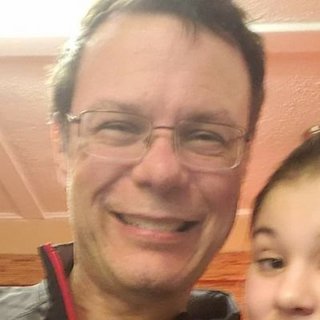 There was an invitation on a private Facebook group to introduce yourself. I have developed contempt of Facebook as of late, for a few reasons. And I sensed this post will be long, with multiple paragraphs, so I thought it best to move it off to my personal blog.
I was born and raised in Allentown PA, moved here with my wife and two daughters in 2005 from Massachusetts for business and career opportunities, and to be closer to my father and mother as my father, at that time, was struggling with terminal disease.
My father was employed by Bethlehem Steel Corp, the steel company that shipped most of the I beams that built NYC. He was a unionized steam pipe fitter who was called in when a pipe burst at the plant and production was down. I didn't realize until later in my life how dangerous that job could be if one was careless about how you go about it. His job put me and my sister through college.
My father Tom and me, circa 2002
In my teens, during the 80s, I became fascinated with computers as the IBM PC and Apple IIe hit the market. I begged me parents to buy me a TI-99 4A for Christmas one year. It was the PC where I learned programming languages, self taught, since the concept of teaching computer languages to high school students in America didn't exist in the 80's. Given my father was a unionized laborer, and my mother a Sears credit clerk, money was tight. Only later in life I realized how expensive a purchase that PC was for them.
My sister Jolene and me, circa 1985
I graduated from the University of Pittsburgh system with an Engineering Degree. My first job after graduating was installing weather monitoring systems, for a company called VIZ Manufacturing based in Philadelphia, for military and government customers the world over. That job took me to countries such as Japan, Korea, Malaysia, Turkey and Oman. I always seem to be sent to jobs in the Far and Middle East. If you ever meet up with me ask me about the time after my plane landed in Muscat Oman in the middle of the night, I got into a unmarked taxi with a local Arab man who didn't speak English. I did successfully make it to the hotel. Fun ride !
After three years of being sent overseas, I wanted to move on and I felt this job was not the best fit for me, I had more to offer. One of my work colleagues Jeff, who was designing radios for VIZ, had job leads with Motorola. Jeff landed a job there after persistent networking on his part. Admittedly I was envious and kept in contact with him. One day Jeff called me saying there was a job opening, get a resume together and interview. I landed a job at Motorola as an entry level engineer deploying cellular telephone systems around the Philadelphia, New York and Boston metro areas. This happened in the mid 90's when cell phones were still somewhat of a luxury item, or a business tool for corporate executives. I still work in the cellular industry today, after 25 years.
I have two daughters. My oldest will be graduating Warren Hills in 2021 and then she will be off to college to study architecture. Her drawings and art work are beautiful. My youngest daughter will be off to Warren Tech next year, she wants to be a electrician by trade.
I enjoy road cycling, I find the activity clears my mind. I enjoy fixing and repairing bicycles in my spare time. I know just enough to keep the three I own road worthy. And I am picking up an interest in blogging, and web site development, because I never lost that interest in computers I discovered when I was a teenager. That early interest, and the skills I developed from that interest, have served me well.
Here are my responses to the questions posed to me in the private Facebook post:
When you refer to me in the third person, use the pronouns (he/him).
I love baked apple pie and peach cobbler, hot with ice cream served with black coffee. Best way to end a meal !